Open with Care - Welcoming family and friends again!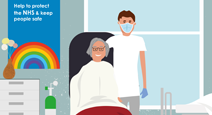 We are delighted to see our care home residents welcoming their family and friends for visits again.
We have put the following protocols together to ensure we follow Government guidelines to keep us all safe and well when coming into our care homes.
If you would like to visit a loved on please contact our care team who can help arrange this with you.
Care Home Visiting Protocols
Protecting our residents from the risk of COVID -19 has always been our top priority, and we know the restrictions in place have been difficult and potentially harmful for many residents, relatives and staff. However, COVID-19 protections have developed considerably in recent months alongside increasing evidence highlighting the risks of harm from ongoing separation from loved ones. Some of these safeguards and protections include;
adequate, available and properly used personal protective equipment (PPE) for care home staff and visitors;
testing of residents prior to hospital discharge and admission to care homes;
routine testing for all care home staff and visiting professionals;
care home-based testing for all designated visitors;
COVID-19 vaccination of care home residents and staff; and support from local oversight arrangements, public health and primary care.
With these safety measures now in place, maintained and rigorously sustained, combined with evidence that community COVID-19 transmission is being controlled we can now begin a return to safe, indoor visiting so that everyone living in our care homes, no matter their age, health, or otherwise, can have meaningful contact with their families and loves ones for the remainder of the pandemic and beyond - provided it remains safe to do so.
We have developed a RouteMap to resuming visits based on the guidance issued by the Scottish Government 'Open with Care - Supporting Meaningful Contact in Care Homes'. This will help us to maximise the quality and duration of visits. Regardless of the RouteMap we have and will continue to support essential visiting at all times during the pandemic. Blackwood's RouteMap takes an incremental approach to resuming visits and will be in 3 phases;
Phase 1 (Mar - May#)
Designated Visitor at all levels/meeting outdoors
Up to two designated visitors weekly, once weekly each (total number of visits is two per week)
walks together or outings using a wheelchair (visitors and frequency in line with indoor visiting levels). for designated visitors and other family members, with the group size in line with wider COVID-19 restrictions.
Phase 2 (Apr -June#)
Increased frequency of Designated Visitors/trips outside the care home
Towards daily visits
Initially, trips out with one designated visitor in the car and avoiding public indoor spaces, adopting IPC and safety measures with advice from local health protection in more complex scenarios
Phase 3 (May - July#)
Increased number of visitors per visit/overnight stays
Multiple visitors per visit in line with general COVID-19 restrictions on meeting size, as well as environment and IPC considerations.
Progressing to overnight stays in own home or designated visitor's home (risk assessed and discussed with oversight arrangements).
# Dates are approximate and subject to change
We will also work with you to prepare an individualised visiting plan that takes account of individual preferences and needs, balanced against the needs of everyone else in the care home and in line with Blackwood's RouteMap.
It is critical during this stage that visits only take place at pre-arranged times. These will be jointly agreed between you, our residents and the care home. This arrangement is in place to ensure we reduce the number of people inside the care home at any one time, to protect our residents and staff.
Visits will take place in accordance with the residents individualised visiting plan. You will be asked to enter and leave via a designated route. This reduces the risk of someone who is asymptomatic inadvertently taking the virus deeper into the care home. This is a critical safety measure to protect your loved one, the other residents and our staff.
The frequency and duration of your visit will also be as agreed in the residents individualised visiting plan. We would ask for your co-operation in following these limits as this allows us time to implement infection prevention and control processes to clean the visitor area thereby enabling other visitors to visit their loved ones safely.
Action you will be asked to take during your visit
You will be asked on entering the [Insert location] to remove any hand and wrist jewellery and keep forearms uncovered to support good hand hygiene when visiting.
You will be asked to wash your hands with soap and water. Handwashing should take a minimum of 20 seconds, following the hand-washing guide on the wall. If there is no hand washing facility, you will be asked to use alcohol-based hand rub (ABHR)
You will be asked to sign that you have read this visiting protocol and completed the accompanying visitor pro-forma, which includes consenting to a Lateral Flow Test (LFT) which we strongly encourage you to take.
You will be supplied with a Fluid Resistant Surgical Face Mask (FRSFM) by our staff. They are all single use items and must be disposed of in the bin provided at the end of your visit. In some instances, you may be asked to put on additional Personal Protective Equipment (PPE) depending on the nature of your visit (e.g. if providing personal care). Staff will be on hand to show you how to put any PPE on and more importantly how to take them off safely, thereby reducing any infection risk.
You are asked to maintain a two-metre distance between you and your loved one whenever you can, but brief hugs and hand holding are allowed. We fully understand this is difficult for both you and your loved one. However, it is a critical protective factor for you both, our staff and the wider community.
Staff will show you how to remove PPE safely. You must dispose of the PPE in the bin provided and perform hand hygiene immediately on removal.
As you leave the care home, please use the alcohol-based hand rub provided to clean/rub your hands.
Day and overnight visits will also gradually resume as we work through the 3 phases of Blackwood's Open with Care RouteMap. Residents can temporarily leave the care home to attend essential personal business, e.g. attending a funeral, hospital appointment in A&E, out-patients or as a day case in all phases of the RouteMap.
Guidance on external visits is detailed below;
Leaving the Care Home but Staying Within the Care Home Boundary - Spending some time outside the care home and within the care home grounds is to be encouraged. There is no need for any specific or additional risk assessments to be completed provided that physical distancing is observed, and hands are sanitised upon leaving and on entering the care home. Permitted in phase 1
Short Duration Visits Outwith the Care Home but in the Local Area - Spending some time outside the care home boundary and keeping within the local area can also take place as long as public indoor spaces are avoided i.e. a visit to a local park or a walk around the block as long as physical distancing and face covering guidance as detailed on NHS Inform is followed. Hands should also be sanitised upon leaving and on entering the care home, along with any equipment used, i.e. wheelchairs are sanitised on return. Permitted in phase 1
Longer Duration Day visits Outwith the Care Home - The physical distancing and face covering guidance on NHS Inform must be followed during day visits as well as good hand and cough hygiene. The care home will provide masks and sanitiser. Day visits will not require any isolation on their return. Permitted in phase 2
Overnight Visits out with the care home - In certain circumstances residents may leave the care home for overnight stays. An assessment of the person's needs and an individual risk assessment must be carried out beforehand. The risk assessment must take account of any individual facts and circumstances of the resident in considering the suitability of the overnight stay. It should also consider any local restrictions in place and the wider risks posed to the other care home residents from the virus on their return. Guidance and advice should always be sought from the local Health Protection Team (HPT) before allowing any overnight visits. Permitted in phase 3
To minimise the risk of viral introduction to a care home from residents returning to the care home from overnight stays, the resident must go straight stay in their room for 72 hours on return with additional checks for any symptoms.
Future Focus
At all times we will follow Scottish Government guidelines related to visiting.
Should these guidelines change we will implement them. This could include:
Cessation of visiting if there is a spike in the virus or an outbreak in the care home;
Extending number of visitors or length of time, if we continue to see a reduction in the virus 'R' number.
We will keep you informed of each change as it occurs and how it impacts on our residents and on you as a family member.
SAFE HOMES
Everyone plays an important part in opening up safely. The advice below outlines how family and friends can help keep everyone safe;